For friends and family around the world who have been following the earthquakes in Kyushu, just to let you know, we are fine here in Nagoya. I didn't know about it until Friday morning.
We are about where the right-most "3" is on the map below (of this morning's aftershock):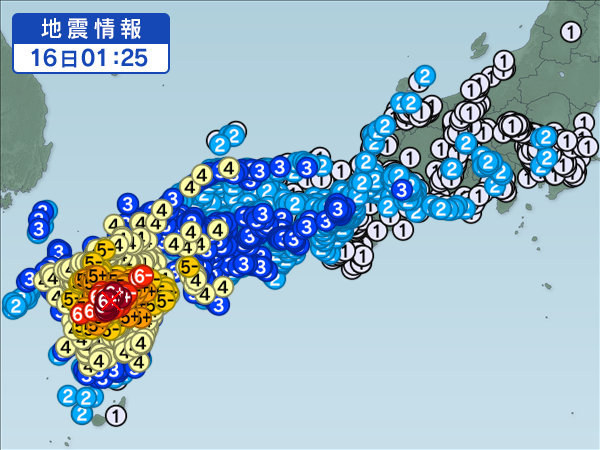 The rough part for those down in Kyushu is that the first quake destabilized buildings, and the aftershocks are collapsing them.
M saw a rather unusual news item earlier today, though:
「熊本地震は南海トラフ地震の前兆かもしれない」専門家が警告
http://zasshi.news.yahoo.co.jp/article?a=20160416-00048455-gendaibiz-soci
A quick, brief, translation goes something like this…
The earthquake that occurred is in very "bad position" because this was considered the epicenter in the prefecture (Kyushu). The Tagawa fault runs from the base of Mount Aso and the fault at Aso is related from Wakayama to Nagano, Shizuoka, Aichi, and Shikoku Prefectures, at the top of the concentration zone of the giant fault leading to Kyushu. If we take this into account, at the worst, Nagano and Shizuoka, Shikoku, Kyushu, may have a similar inland earthquakes, and this is likely to happen in quick succession.
For years they have been predicting a major quake along the Nankai and/or Tonankai trough, and this is exactly where this article is pointing to. (See my earlier discussion on the Nankai Quake at:
https://uhohjapan2.wordpress.com/2012/08/31/day-538-and-with-a-nankai/)
Here's another jpg of the Nankai Tonankai trough:
http://iwj.co.jp/wj/open/archives/296858/ws000001-119
Here in Aichi prefecture today, folks are going about their business as usual.
I got my bicycle fixed and bought more batteries and emergency food to take to work on Monday.
Just in case.
[*If* something really does happen here and I sill have electricity and Internet, I will write updates when I can. First, check Facebook ;-)]
=================
1,864 days since 3.11
=================